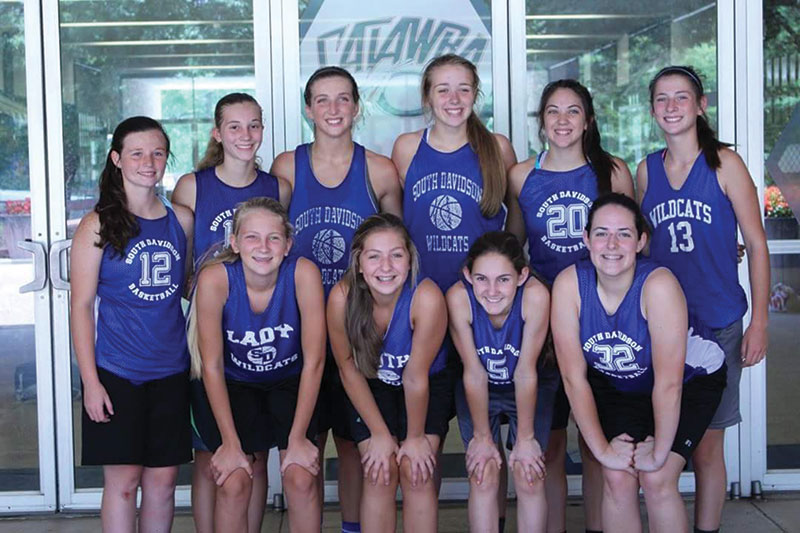 Women's Basketball Summer News
Submitted by Coach Frizzell
South Davidson High School Girl's Basketball has been working once again during their "off-season". Unfortunately the Lady Cats did not participate in the Lexington YMCA's Summer League because the league was cancelled due to the lack of willing participants within the county. This has been a great way for our team to get in almost a half a season and we were all disappointed that it fell through at the last minute. Last summer the Wildcats were missing a few key faces due to injury, but knock on wood, two of the rising sophomores Mallory Gardner and Lauren Wyatt have been healthy through the summer and are working to stay that way. The Ladies traveled to Catawba Team Camp during the first week of July.
This camp consists of two full days with a final single elimination tournament on the morning of the third day. Team camp is a great opportunity for the current Varsity players, players that have experienced limited court time and the upcoming freshmen to come together for meals, games, conversations, and of course time on the court playing together as a team. This was a fun few days. Team camp is not about domination, it is not a season, but a time for everyone to start thinking of this year and the possibilities of what a new season will hold. This is a team with a lot of talent and hopefully they will be a team that decides early on what they want to accomplish this season. Anna Gardner picked up where she left off through her play, positive support of teammates and the leadership we have all come to expect. Hannah Cranford, who we all know as a shooter, found a new aspect of her game at camp with the cut and drive, this should add a new dimension to the offense this year. Mallory Gardner proved that she can dribble and many times scored at will on multiple defenders. Lauren Wyatt worked the two-man game and worked the guard spot well. Lindsay Jollie is a welcomed addition and contributed under the basket and with her defensive ability. Lexie Smith is continuing to work on hand strength and finding the basket. Bayli Medlin moved the ball well and started looking for her shot. Gracie Apple is also going to be a welcomed addition to the team this year with her ability to move on offense and defense. We were also joined by two freshmen at camp, Ali Smith and Taylor Query. Great Job to all who attended camp!

Last year was a season that we will all never forget. Watching individuals find their strengths, push themselves and their teammates to levels of competition that they might not have realized was possible for them to achieve the summer before was extremely fun to experience, but last season is last season. We are not looking to have a repeat of last year, we want more! The Lady Wildcats are not going to step on the court and think about a game played months before. Even though we are left as coaches and players with experience we can draw strength and maturity from, not to mention look back and smile as we remember, yesterday is gone. Many times teams that have found success the previous year either think it is going to fall into their laps without work or they find themselves playing not to lose vs. playing to win. I feel that the Wildcats will continue to step up and work during the off-season to prevent either mindset from taking hold.

Four of the players that attended Team Camp this year have also attended elite and individual camps and are participating in AAU programs thoughout the Spring and Summer. It can't be stressed enough that anyone interested in playing this sport or any other sport at a competitive level should be running daily and working on the skills required to compete at a high level. A basketball player of any position and height should be working on their ball handling skills, sprint ability, distance running to increase recovery time, shooting, and adding two new moves that they can consistently use in the upcoming season to help their team be successful. Repetition of skill is the key to success. We are winding down with our open gyms, but that does not mean that individual work stops. Hopefully all student athletes that are interested in playing girl's basketball at any level will realize that the off season is where your game develops and the ability to fight fatigue by being in shape will help your game physically and mentally in the upcoming season. The following players attended camps this summer and/or have participated in open gym and AAU. Anna Gardner, Lindsay Jollie, Hannah Cranford, Lexie Smith, Mallory Gardner, Lauren Wyatt, Bayli Medlin, Gracie Apple, Ali Smith, Taylor Query, Kamryn Oakes, Halie Ireland, and Faith Hedrick. Thank you Ladies.