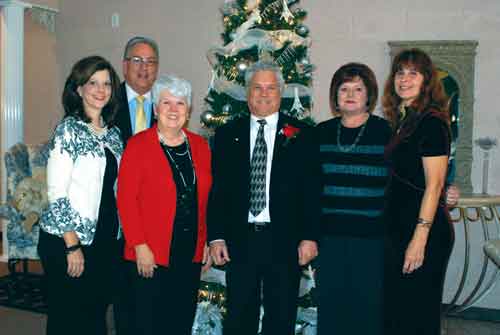 Mayor Scott Morris Honored for Years of Dedicated Service
By Kelly Bledsoe
kellybledsoe@triad.rr.com
Over a hundred people attended a reception for Mayor Scott Morris this past Sunday. Folks came from near and far to show their respect and admiration for a man who has given so much of himself for his community. A public servant for 32 years Mayor Morris has seen a lot of changes and has been instrumental for so many positive improvements to our town.

Morris began his career as a Town Commissioner in 1981 and has served as Mayor since his election in 2003...but his commitment to the town and people of Denton runs much deeper.

Scotty Morris is an individual totally devoted to his community, his church and his family. His career as a public servant is but one aspect of his life. Morris has devoted much of his life as a volunteer fireman for the Denton Volunteer Fire Department serving in various roles ranging from chief to captain to safety officer. He also serves on various boards and takes an active role in his church. His actions speak much louder than words.

During the reception Morris received may accolades for his sincere efforts to make Denton a great place to live and grow. Whenever there is a town or special event…you will see him there… hard at work. Some of the projects Morris is most proud of include the advancement of technology and economic development with the town, the continued improvement of the town sewage and water system, along with the development of Harrison Park and a newly formed Parks and Recreation Committee.

Morris is truly appreciative of all the support he has received over the years not just locally but from surrounding areas as well. Change can only be made through the cooperation and commitment of those involved.

Morris acknowledged at the reception, "It has been an honor to serve the people of Denton. I care deeply for this community." Although this is the end of one journey…it is just the beginning of another.