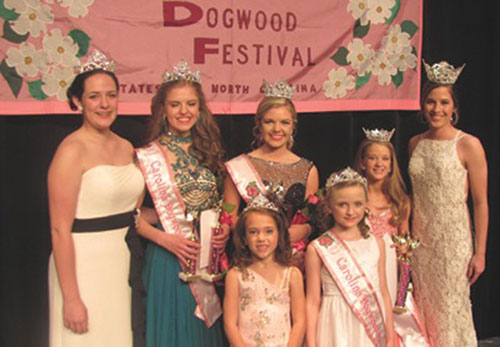 Aneil Owens Crowned Carolina Dogwood Queen
Aneil Owens of Denton was crowned the Carolina Dogwood Queen on Saturday night, April 16, at West Iredell High School. She was crowned by the outgoing Carolina Dogwood Queen Madison Sigmon of Denton.

Celebrating its 48th year, the Carolina Dogwood Festival is based in Statesville and includes a youth pageant held last month, a sanctioned horseshoe tournament, a golf tournament, and other activities.

Enjoying visiting queen activities over the weekend were Miss Denton Lexie Smith (far right), Little Miss Denton Whitney Smith (front left), and Carolina Dogwood Little Miss Karsyn Layne of the Denton area (front right).

Crowned along with Aneil on April 16 were Dogwood Teen Princess Alora Wilson of Bakersville (beside Lexie), Aneil, and Jr. Dogwood Queen Victoria Tavares of Statesville. At far right is outgoing queen Madison Sigmon.

Dogwood Queens, visiting queens, pageant judges and officials attended the dogwood tree planting ceremony at The Elder Center in Statesville.