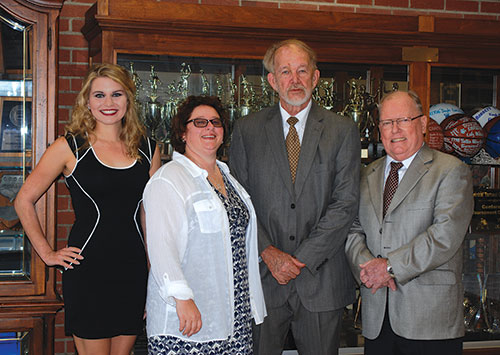 South Davidson High School Hall of Fame Inducts Newest Members
By Kelly Bledsoe
kellybledsoe@triad.rr.com
The South Davidson Hall of Fame welcomed its newest additions last weekend with halftime recognition during Friday night's football game at Briggs Stadium and an induction ceremony and dinner held Saturday night at South Davidson High School. It was a weekend designed to highlight the achievements, applaud the successes, and to recognize the impact of five outstanding athletes in our community.
Scottie Garner, Amy Loftis Pierce, Jessica Burcham, Eddie White, and the late Neal Morris were honored for their outstanding athletic achievements. Surrounded by family members, friends, coaches and former teammates these individuals joined the elite in the South Davidson Hall of Fame.
The Hall of Fame was formed to recognize and preserve the heritage of high school athletics in Denton and Southern Davidson County, to keep alive the tradition and spirit, and to honor each year those persons who through distinguished achievement have excelled in one or more high school athletic programs.
To date, 49 deserving individuals have been enshrined in the Denton High School Athletic Hall of Fame. They include coaches, administrators, contest officials and other contributors, such as sports writers, who have raised the level of awareness of high school athletics through their dedication, efforts and achievements.
Howard Hayes served as the guest speaker and Kelly Smith and his staff catered the meal from Rick's restaurant.
Booster Club president Jamie Benton thanked the community once again for showing their support by nominating these deserving athletes. Benton extended a big THANK YOU to SDHS athletic director Lawren Cody, Anne Bean, Cheri McCullough, Gary Gallimore and Principal, Mike Lawson, all who work tirelessly in support of the school and the boosters. Induction into the Hall of Fame is not a popularity contest, but a true testament of athletic excellence based on stats, performance, and integrity on field and on the court.
Athletics is defined as, "Activities, such as sports, exercises, and games, which require physical skill and stamina. But truly it is much more. Athletics forms a fraternity. A group of people you grow up with, depend on, and live with the rest of your life. These successful individuals who display sportsmanship, good character and success, create a legacy for others to follow.