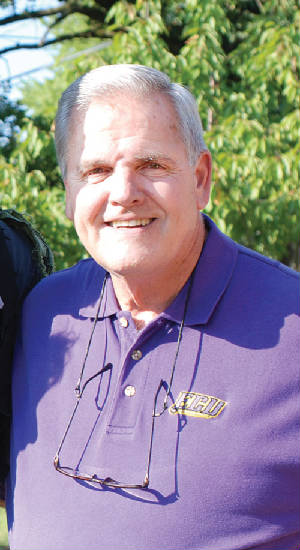 Town Manager John Gray to retire

By Kelly Bledsoe
kellybledsoe@triad.rr.com
Interim Town Manager John Gray's recent announcement of plans to retire at the end of the month followed years of successful, dedicated work on behalf of Denton. Throughout this time his vigilant attention to finance, legal matters, employment, state statutes and town revitalization have empowered our elected and appointed officials to think through the best course of actions to take for the Town.

Mr. Gray has a lot of experience and connections, which served the town well over the last five years. But Gray has always maintained that the Town needs a full time manager and because of his prior retirement stipulations from the City of Lexington, he can only work part time. Gray says, "The Town of Denton has a lot of opportunities and needs consistent day to day full time attention from the Town Manager."

Denton Mayor Larry Ward, who came into office shortly after John Gray became the interim Town Manager says, "I came into office and found not only a good town manager, but a good friend." The two have worked extremely well together improving the professional image of the town, the overall appearance of the town, as well as securing grant money for downtown revitalization.

Mr. Gray has been instrumental in the revitalization efforts of downtown Denton and has a good record of economic development, which has always been at the forefront of his agenda. During his tenure the Town of Denton has received over 1 million dollars in Community Development Block Grants benefitting local business such as CID, Kaufman Trailer, Century Hosiery, OPE of America and Thermo Products to name a few. The Town also used a state grant and a loan, 4.3 million, to modernize the water plant. In addition a professional engineer was retained to design annual programs for street repairs and improvements as well as a $15,000 PARTIF Grant for the new Harrison Park Playground.

Over the past five years the Town, under the tutelage of John Gray and Mayor Ward, has also developed a good working relationship with Handy Sanitary District, created a comprehensive Land Development Plan, upgraded the town website and added a new Facebook page to promote and enhance coverage of local events. The town of Denton Parks & Recreation Board has also grown orchestrating new events in Harrison Park and growing existing events. In retrospect he believes that he was the right manager at the right time for the job.

"I am most pleased that the Town is now in a better place financially and in a number of other ways. I am also very optimistic about the Town's future, I can leave believing that the main overall goal that has guided me throughout my career in public service has been accomplished."

"As for acknowledgements, the list of individuals is long and includes all members of Denton Town Council that I have had the privilege of serving; the exceptional staff this Town is blessed to have in its service, and who, to a great extent, deserve the credit for our achievements; the citizens and business community partners I have served and interacted with; my peers in Davidson County, and finally, the local and regional organizations, government agency officials and others who have been so supportive of Denton's efforts and me individually during my tenure," Gray said.

He will retire with a total of ______years in public service, 5 consecutive years of which he has served as a Denton Town manager.

"In closing, I am most pleased to be able to end my career based upon my decision to retire on a positive note, and I want to express my sincere appreciation to the current members of Town Council for their support to this end. I am confident under this Council's leadership that Denton will prosper. As I close this chapter of my life, I am so thankful for all the new friends and many life-long relationships I have made and developed during my time here."

Mayor Ward is enthusiastic to keep the momentum he and John Gray have developed going. He will continue to work towards improving trust and creating a more positive town image while involving more citizens on various boards to promote growth. He will continue efforts to improve the town's financial viability so there is always "money in the bank" in case of emergencies and also to be able to invest in opportunities as they appear.
After and extensive recruitment process, the Denton Board of Commissioner's has offered Kenneth Gamble the Town Manager position for the Town of Denton. Mr. Gamble's first day with the Town will be February 4, 2019.

Mr. Gamble has served as the Town Manager for the Town of Stoneville since February 2014 and led Stoneville through some accomplishments including $4.1 million in grant funding secured; doubling unassigned fund balance; $15 M in business investment; created and led the downtown Core Group; initiated and led town re-branding campaign.

Mayor Ward and the Board of Commissioners look forward to Mr. Gamble providing strong leadership and service to the community.
---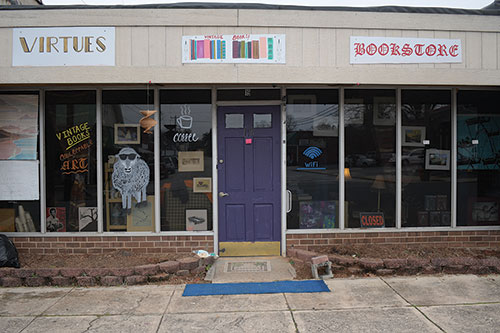 A Book Treasure Hunter

By Kelly Bledsoe
kellybledsoe@triad.rr.com
Brandon Pausa, owner of the newly opened Virtues Books, Art & Wifi store in downtown Denton is a "Book Treasure Hunter." He searches estate sales, thrift stores and other venues to find rare and unusual books. He began his business with on-line sales and decided to open a physical store to preserve and promote books. Brandon says he is a keeper of history saving and sharing books for future generations.

Brandon recently relocated to Denton from Reno. He is excited to be a part of the downtown Denton community and looks forward to meeting the people in southern Davidson County.

Prior to becoming an on line entrepreneur Brandon served in the Army as a satellite communicator. He jokingly says, "I went from left brain to right brain." Brandon wants people to come into his store, connect to the FREE Wifi, enjoy his lounge and socially interact with others in the community.
Brandon has a large collection of books including some rare titles and first editions. He is currently accepting book donations for in store credit.
Virtues Bookstore is located at 19 Salisbury Street in downtown Denton. Store hours are 10am-8pm Monday through Saturday. For more information check out Virtues Facebook page or call 336-490-0022.

So come on in…relax, read a book, enjoy conversation, surf the net at Denton's newest bookstore.