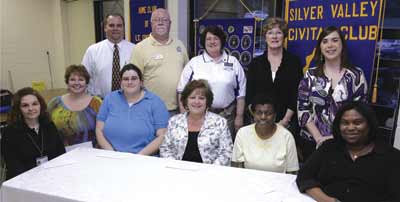 SILVER VALLEY CIVITAN CLUB VOLUNTEERS FOR
SPECIAL OLYMPICS SWIMMING
Submitted by Gary Arnold
The Silver Valley Civitan Club presented medals and ribbons at the Special Olympics Southeast US Swimming Invitational held at the Greensboro Aquatic Center on April 9. About 175 swimmers came from Florida, Virginia and North Carolina to compete in 26 events at the Coliseum Complex.

This was the 21st year of the event and the first in Greensboro.

Silver Valley Civitan organized and conducted awards ceremonies for more than 250 divisions. Gary Arnold was the awards manager and Sara Barker recruited the club volunteers. Other volunteers were President Misty Holt, Roger Barker, Rhonda McDaniel, Stephanie Tucker and Darren Ellis.
Among other volunteers with awards were members of the Greensboro Swim Association.

The local Civitan Club has presented awards for soccer and bocce at Special Olympics North Carolina Fall Tournaments for 18 consecutive years. The club has also presented awards several times at state and area level basketball events. Silver Valley Civitan will present awards for the 34th year at the Davidson County Spring Games on April 28 at Ledford High School.

Special Olympics offer year-round sports training and competition to adults and children with intellectual disabilities. These athletes inspire greatness through their success. They provide motivation to the thousands of coaches, sports officials, local program committee members and event organizers involved in Special Olympics at the local, state, national and world levels. The worldwide movement now has more than five million athletes in more than 170 countries. There are nearly 1.6 million volunteers helping organize 108,388 competitions annually.

Special Olympics North Carolina has nearly 40,000 athletes and 30,000 volunteers. The Silver Valley Civitan Club has supported Special Olympics with contributions and volunteers at all levels since 1978.

(Volunteers from the Silver Valley Civitan Club at the 2017 Special Olympics Southeast United States Swimming Invitational included (from left) Rhonda McDaniel, Gary Arnold, Misty Holt, Roger & Sara Barker, Stephanie Tucker and Darren Ellis.)
---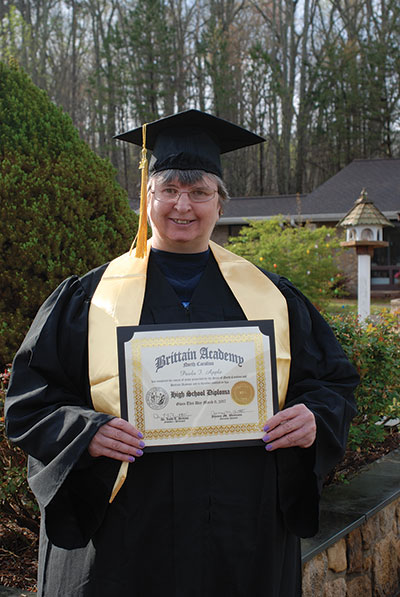 53-Year-Old Woman Fulfills
Lifelong Dream of Earning High School Diploma

By Kelly Bledsoe
kellybledsoe@triad.rr.com
At 53 years old, Mountain Vista Health Park resident Paula Apple, has finally fulfilled her lifelong dream of earning a high school diploma.

Apple, who was born and raised in Denton, NC, struggled in school. Her parents didn't recognize her disability and she dropped out of school before graduating. However, she always held on to the dream of one day graduating. "It's the one thing I have wanted all my life."

As of April 8, 2017 Paula is officially a High School Graduate.

The road to graduation began when Penny Jacobs took over as Activity Director of Mountain Vista Health Park. Jacobs recalls during her first week of employment, Paula came to her and said she wanted to get her GED. "I was moved by the fact that it meant so much to her," Jacobs said. "When she was telling her story, I could just hear the regret in her voice, and I wanted to be able to help her close that chapter of her life. However, she had been out of school for so long though I wasn't sure how to make this happen, but I told her I would try."

Putting her words into action, Jacobs contacted Dr. Linde Brittain of Brittain Academy in High Point and asked her advice. Once the idea was out there the ball started rolling and Dr. Brittain contacted a church who agreed to pay for her schooling. Dr. Brittain herself paid for Paula's cap and gown, and several of her family members paid for her class ring.

In order to receive her diploma Paula had to pass ten tests. Faced with this challenge Jacobs once again looked for help. She asked some of the volunteers at Mountain Vista for help and found Kirsten Myers, a homeschooled student, willing to help Paula with her studies. Kirsten came in two days and weeks and mentored Paula and the end result was that Paula only missed 33 out of 407 questions rightfully earning her diploma.

Paula wants to thank everyone who helped her on this journey. "I couldn't have reached my goal without the help of Penny, Kirsten, Dr. Brittain, my family and friends. I hope that everyone will see what I have done and know that they can do it too. You are never too old!"

Though Paula Apple has finally fulfilled her lifelong dream, she has no plans of slowing down anytime soon. She continues to work at the Workshop of Davidson County, and she is an inspiration to everyone at Mountain Vista Health Park. She is very active and is learning how to use a computer and a tablet. She is a wonderful example of what can be accomplished, despite any challenges, if you truly set your heart and mind to the task.