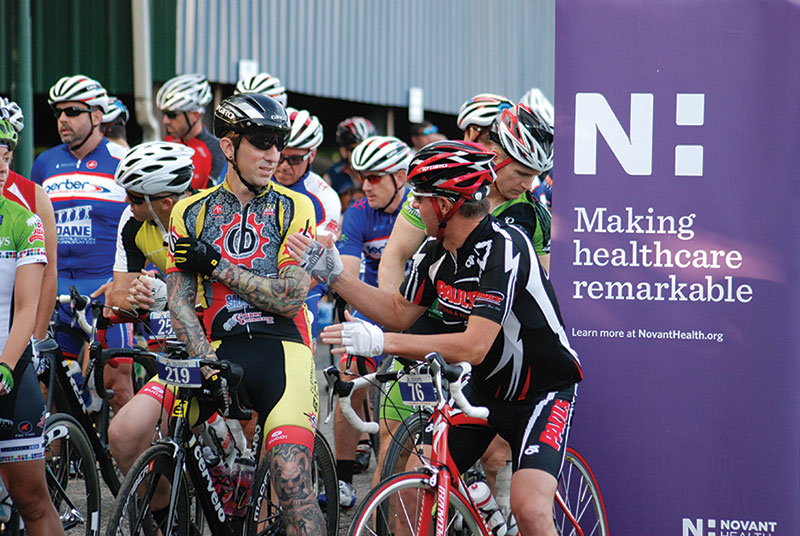 Another great year for TDK!
By Kelly Bledsoe
kellybledsoe@triad.rr.com
Another great year in the books for the Tour De Kale as the 16th annual event winds down. Kale Watkins, namesake and first beneficiary said, "I can't express how much this event means to me and how much I love all of the people involved." According to Kale, the third Saturday in June is one of his favorite days of the year, every year. And with good reason…

"It is a day, when I look around, all I see is kindness, caring and sharing. No bickering or hate and discontent. An entire community joining together to make the lives of someone troubled just a little brighter. Speaking from personal experience, as a recipient of such generosity, I realize again each and every year that I'll never be able to repay the kindness. Mainly because I receive as much joy from the other side now as I ever did as a recipient. Since it is so hard to express my joyfulness in words, I'll explain this way:

Just before this year's event, I received a letter from Michelle Chriscoe. Her daughter Courtney was the 2010 TDK recipient. Michelle gave us an update and told us that, 'Courtney was able to have a major surgery to help improve her life. She is now 13 and doing great!' What else could I possibly say that would explain it better? All of this hard work pays off and to the Denton Community; we couldn't do it without you. Thanks Again!"
Kale vocalizes the sentiment of all involved in TDK. The event is truly remarkable. Remarkable in organization. Remarkable in participation and level of competition. Remarkable volunteers. Remarkable sense of community. Remarkable sponsors. Tour De Kale has helped so many people. The event is a total reflection of the giving spirit and goodness of this community who continue after 16 years to still pay it forward fulfilling the mission to help others in their time of need. Once again a huge thank you to all the sponsors. A list of sponsors and race results can be viewed at www.tourdekale.com.
Over 380 riders took off from the Denton FarmPark in the intense heat. Two hundred and twenty runners filled Harrison Park after a severe storm rolled through earlier in the afternoon. Neither the heat nor the storms dissuaded folks from participating to help this years recipients Gabe Davis, Drew Hill and raffle recipient Mike Irby. Although financial figures were not available at press time each one of these recipients will benefit monetarily but more importantly they are now members of the TDK family for life; because the level of compassion doesn't end at the close of the day, the support is infinite.

Lisa Grubb, organizer of the 5k night run commented, "The level of support we receive from the community is amazing. In fact, this years event seemed almost easy." After 16 years she has witnessed some amazing occurrences. However, this year she was touched even more so when she went to the laundry mat to wash all the towels used during the event. With over 600 participants, that's a lot of towels! The remarkable thing…when she returned to put the towels in the dryer she found them all dried and folded on the table waiting for her. There really are angles among us!