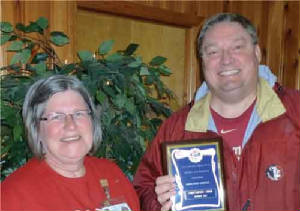 CHRIS SMITH NOTED FOR 25 YEARS CIVITAN SERVICE
Submitted by Gary Arnold
Chris G. Smith was presented a Civitan Medallion award from Civitan International recognizing 25 years of membership.

Smith is credited with joining the local club in October 1988. He has served in several offices including president for 1991-92, secretary and chaplain. Smith served North Carolina District West Civitan as a Lieutenant Governor in 1994-95.

Civitan International is a worldwide organization in 38 nations with nearly 900 clubs located on four continents. Their mission is to build good citizenship by providing a volunteer association of clubs dedicated to serving individual and community needs with an emphasis on helping people with developmental disabilities.

The Silver Valley Civitan Club currently has 38 members. The club typically meets at New Jerusalem United Church of Christ on the second and fourth Monday of the month at 7 p.m.