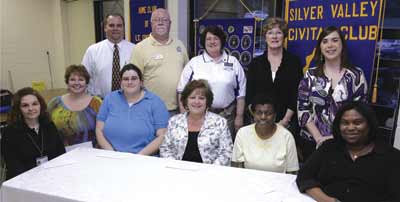 HAROLD PARRISH RECEIVES HIGHEST AWARD FROM SILVER VALLEY CIVITAN CLUB
Submitted by Gary Arnold
The Silver Valley Civitan Club presented Harold Parrish the Honor Key during the club observance of its 56st charter anniversary. It is the highest award presented by Civitan Clubs and recognizes long, sincere and dedicated service to Civitan and the community.

Parrish was described in the presentation as, "A true friend to many and known by everyone."

Parrish first joined the Silver Valley Civitan Club in April 1975. After several years he left Civitan but Civitan never left him. He rejoined in December 1987 and has 27 years of consecutive membership with more than 30 years total. Parrish gratefully notes he was first sponsored by the late Lloyd Hunt and then by Phil Hemphill.
Harold Parrish was elected by the club membership as the Distinguished Civitan four times including three consecutive years, 1990, 1991, 1992 and 2001. He earned the Area Distinguished Civitan Award in 1993. The Parrish family including his wife, Joyce, and daughters, Amelia and Amanda, received the Distinguished Civitan Family Award from North Carolina District West Civitan in 1993.

Parrish has served at least 11 terms on the club Board of Directors and was president in 2004-05. He served as the leader of two dozen teams or committees totaling nearly 60 assignments during his Civitan career.

This dedicated Civitan has sponsored eleven new members and is a key volunteer for Project Santa Claus, Special Olympics and in fund raising activities.

In fund raising he has served as a Team Leader of steak and chicken suppers, candy & Claxton Fruit Cake sales campaigns, the community bazaar, mock mayoral elections and the bicycle ride as well as 14 times leading the raffle team. Parrish has sold more tickets than any other member in the history of the club. All proceeds from fund raising efforts are used for Civitan service projects.

Other areas of leadership to club teams by Parrish serving multiple times on each include growth, families in need, fellowship & attendance, youth & Junior Civitan, Project Santa clothing & toys, Distinguished Community Citizen, parade and education. He served as a member of many other teams.

Parrish is retired and is a U.S. Army veteran having served in Vietnam. The Parrish family are active members of Chapel Hill United Methodist Church in Denton.
Only eight Honor Keys have been presented by the Silver Valley Civitan Club. Notable recipients include the late Sam Arnold (1982), Luther B. Pope (1987), the late Beauford Trotter (1992), Gary Arnold (1993) and John Hughes (2010). Hughes had the honor of presenting the Honor Key to Parrish after President Brenda Everhart announced the award.