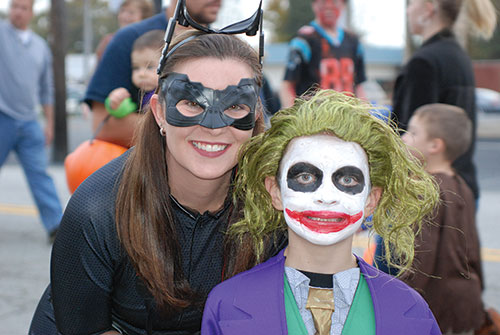 Halloween Street Treat is FRIDAY

The 18th annual Halloween Street Treat, sponsored by the Town of Denton Parks and Recreation, is set for FRIDAY, October 31 from 5:30 to 7 p.m. in Denton. In addition to the usual trick-or-treating, some special activities are on the schedule including a Costume Contest, a Cake Walk hosted by Central UMC, a Pumpkin Carving Contest, and performances by KCDC dancers in Harrison Park.
Anyone interested in entering the pumpkin carving contest should bring their Jack 'O Lanterns to The Denton Orator office no later than NOON Thursday, October 30. All pumpkins will be on display in Harrison Park. The winning pumpkin will receive a $50 cash prize!
Judging for the Costume Contest will be held from 6:30 to 7:00p.m. in the park; entrants should line up at the ramp along the side of the stage. Contest winners will be featured in the November 6 edition of the Orator.

And be sure stick around in the park at the conclusion of judging, because Denton's own KCDC dancers will present their spectacular Halloween show at 7 p.m. to the awesome sound of Jimmy Carroll Sound Company- a great way to wrap up a fun evening!

A BIG THANK YOU to the following businesses and organizations for participating: The Village, The Denton Orator with the Southeast Threshers Queen, Caroline Smith, OPE of America, The Old Country Store, Denton Fuel Center, Breeden Insurance, Denton Lion's Club at Kountry Korner Hardware Store, Shop Talk Salon, The Classic Restaurant, Wayne Frank Accounting, Denton School of Martial Arts, Denton Wesleyan Church/The Champ Center, Rick's Restaurant, Denton Florist, The Denton Library with The Law Offices of Paul Mitchell, Party on Main, SunTrust, Done Right Auto Repair, and the Pentecostals of Denton will be giving out hot dogs and water. Other businesses may be participating but did not contact our office before press time. We apologize for any omissions.

For more information on the annual Halloween Street Treat, please call The Denton Orator at (336) 859-3131 or email dentonorator@triad.rr.com.
---
One-Stop Early Voting at Denton Library
One-Stop Early Voting Locations for November 4, 2014 General Election
One-Stop Early Voting will be offered at the following locations and times: BOARD OF ELECTIONS located at 945 N Main Street, Lexington, NC 27292 Monday through Friday, October 23 – October 31, 2014 from 8 a.m. – 6 p.m. and Saturdays, October 25 and November 1, 2014, from 8 a.m. – 1 p.m.
Additional locations offering One-Stop Early voting include: THE DENTON LIBRARY located at 310 West Salisbury Street, Denton, NC 27239, THOMASVILLE LIBRARY (14 Randolph Street, Thomasville, NC 27360), and MIDWAY FIRE DEPARTMENT (228 Midway School Road, Lexington, NC 27295) Monday through Friday, October 23 – October 31, 2014 from 9:00 a.m. – 5:30 p.m. and Saturdays, October 25 and November 1, 2014 from 9:00 a.m. – 1 p.m.