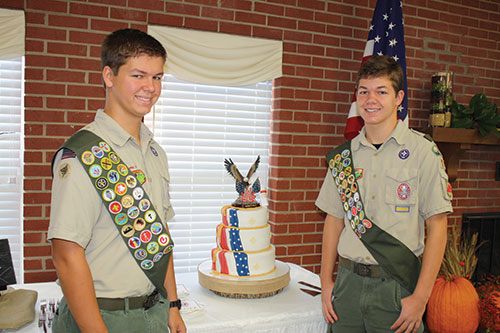 Eagle Court of Honor for two
By Kelly Bledsoe
kellybledsoe@triad.rr.com
The Eagle Scout Award. It is Scouting's highest rank and among its most familiar icons. Men who have earned it count it among their most cherished possessions. Being an Eagle Scout is a great honor and the award is more than just a badge. It is a state of being.

Boy Scouts of America Troop 101 of Denton announced that two of its scouts, Jack Patterson and Luke Patterson, of Asheboro, have been awarded the rank of Eagle Scout. These two scouts join a long list of Eagle Scouts from the troop. Reaching the rank of Eagle Scout has seven requirements, including leadership experience, earning 21 merit badges, and planning and leading the completion of a service project that benefits an organization outside of Boy Scouting.

Jack and Luke Patterson were recognized during an Eagle Scout Court of Honor ceremony held on Sunday, November 2, 2014, at Central United Methodist Church. They are the sons of Rodney and Mary Neal Patterson and the grandsons of Irving and Michelle Surratt of Denton, Wilma and the late Roger Patterson of Asheboro, and Ken and Bonney Buie of Haines City, Florida.

Central UMC Scout Charter Chairman Paul Mitchell and Scout Leaders Chance Parrish and Sam Fouts presented the Eagle Scout pin, patch, and official Eagle Certificate from Boy Scouts of America on behalf of the Old North State Council.

Jack (17) chose to build a Raised Organic Garden Bed for First Presbyterian Preschool's Outdoor Learning Environment. Luke (15) chose to build two Arbors for First Presbyterian Preschool's Outdoor Learning Environment.

Testimonials were given on behalf of the two scouts including these words written by Michelle Surratt:
Jack Patterson
From the moment he was born, Jack was destined for greatness. He is an instrument of God's peace. Wherever there is despair, he brings light.

Listening both to what is being said and how it is being said has earned Jack the mark of all that is good and noble in the realm of leadership. His silent, yet unassuming, essence allows him to serve as a role model for any human being who strives to accentuate the positive and eliminate the negative in all of life's situations.

Individuality profoundly resides in Jack; he will forever astound those with whom he interacts. This young man understands what it means to tackle rigorous tasks and risk-filled circumstances.

Jack lives to serve the Lord, others, and those whom he has yet to meet. He knows God's grace will provide him with the strength for whatever he faces in the journey of life. Lives up to the principal of the Scout Oath and Law in his daily life? Worthy of being honored as an Eagle Scout? You better believe it.

Luke Patterson
Luke has only just begun to realize the impact he makes upon people every day of his life. Luke is an instrument of god's peace; where there is doubt, he brings faith. Wherever there is hatred, he sows love.

Scouting has afforded Luke the touchstones of integrity through knowledge and growth. Inquiry is his best friend, for he questions the unknown and expounds upon the possibilities of what might be. Obtaining the rank of Eagle Scout proves Luke's commitment to tasks and his dedication to serving as a life force, while making a profound impression upon our world.

"The whole theory of the universe is directed unerringly to one single individual-namely to You." Luke's belief in a Greater Power is evidence of his wanting to be shown where love, hope, and faith are needed. Daily, he will strive to bring peace to those in need.

What the human race needs is more spirits like Luke Patterson, for he was created to inspire. Deserving of membership into the Eagle Scout Court of Honor? Absolutely.
The ceremony was followed by a reception in Central United Methodist Church Fellowship Hall, attended by Scouts, families, as well as Scout leaders and Eagle Scout alumni.

---
Entries sought for Denton Christmas Parade
The annual Christmas Parade, sponsored by Denton Ladies Civitan, will be held Saturday, December 6 at 12 noon in downtown Denton. Entries are currently being accepted.

Floats, antique cars, beauty queens, bands and/or musical groups, clowns, cloggers, ball teams, church groups and so forth are welcomed to participate in the parade. Horses are also allowed and will be placed at the end of the parade.

Participants are asked NOT to have a Santa Claus on any floats, etc., as the big guy himself has already agreed to take time out of his busy schedule this year in order to serve as the finale of the parade.

Four-wheelers will not be permitted in the parade, except for those pulling floats or used by Parade officials. The Civitan Club reserves the right to decline any entry that does not meet its criteria.

Also, Denton Ladies Civitan Club will not be responsible for accidents. If you would like to participate in this year's parade or have questions about the event, please call Carole Snider at 336-859-2344. Deadline for entry is November 26, 2013.
A list of parade entries will be published in the December 4 edition of The Denton Orator; anyone not registering by the November 26 deadline will not be listed in that publication.



••••
Christmas Trees Available at Denton Farmers Market
Christmas Trees will be available for sale at the Denton Farmer's Market Saturday, December 6 from 9-2. The trees are provided by Rock Garden and start at $19.95 for 4-5 foot trees, $29.95 for 5-6 foot trees, $39.95 6-7 feet, and $59.95 for 8 foot trees. Make plans to attend the Christmas Parade and then visit the Denton Farmer's Market to take home your trees and all the trimmings. Shop Local!


••••
Gingerbread House Contest
The Denton Famers Market will host a gingerbread house contest on December 6, 2014 from 9:00 a.m. until 2:00 p.m. The event will be held in conjunction with the Ladies Civitans Christmas Parade.

Participants are asked to bring their gingerbread house to the Denton Famers Market located on Salisbury Street across from Harrison Park. The houses will be judged within four age categories, preschool, Elementary, Middle/High School, and Adult. Awards will be presented to the winner.