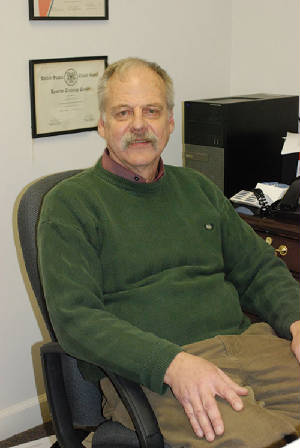 Handy hires new general manager
By Kelly Bledsoe
kellybledsoe@triad.rr.com
Directors of the Handy Sanitary District announced that they have hired a new general manager.

John Williams, who officially came on board as general manager on February 9, has over 35 years' experience working on rural water and sewer systems. Williams began his career in 1980 with Farmers Home Administration (FmHA) located in Harrisburg, PA. In 1994, the USDA was reorganized and the functions of FmHA were transferred to the Farm Service Agency. Williams retired from the agency in 2014 and he and his wife relocated to North Carolina to be closer to their only daughter and her family.

Williams is a professional engineer who graduated from Penn State University. He holds an operator's License Class A, and has worked with other small towns and has received numerous awards such as the Friends of Rural Water Award.
Williams is already hard at work and his main focus is to run the water system effectively and get the sewer system in full operation. He came out of retirement after seeing the advertisement for the Handy position and felt it would be rewarding to work on the tasks Handy faces. Through his years of experience Williams understands there will always be unforeseen challenges and he is prepared to approach these and work through them.

Williams enjoys hunting and fishing and spending time with his family especially his three-year old grandson who refers to him as "Pops".

Chairman, Tim Loflin, along with the other board members Debbi Yarbrough, Darcus Bisher, Norman Hunt, and Charlie Hobson, are excited to welcome Williams because of his experience and background with rural water and sewer systems.
---
Wildlife Commission Renovates Bringle Ferry Boating Access Area
The N.C. Wildlife Resources Commission has re-opened the Bringle Ferry Boating Access Area in Davidson County after completing renovations last week.

The boating access area, which is located at 3301 N. Bringle Ferry Rd. in Denton, provides access to Tuckertown Lake, a 2,500-acre reservoir. GPS coordinates are: 35° 35' 47" N, 80° 13' 48" W.

Wildlife Commission staff constructed a concrete boat ramp, a 60-foot x 8-foot floating dock and a gravel parking lot with space for six cars and 22 vehicles with trailers. Twelve spaces are delineated while the rest of the parking lot is open space. Staff also stabilized the shoreline by adding riprap.
The entire area is ADA accessible with a dedicated single-vehicle parking space, a dedicated space for a vehicle with trailer, paved sidewalks and assist rails on the dock.

Tuckertown Lake offers excellent largemouth bass fishing opportunities, particularly for anglers who like to fish aquatic vegetation. Wildlife Commission fisheries biologists stock the lake annually with striped bass, and the lake has produced several 20+ pound fish over the last few years. Anglers also fish for black and white crappie, blue catfish, flathead catfish and sunfish in Tuckertown.

The Commission paid for the renovation of the Bringle Ferry Boating Access Area using funds from the Sport Fish Restoration Program <http://www.ncwildlife.org/Conserving/Programs/WildlifeandSportFishRestorationPrograminNC.aspx>, as well as monies generated from motorboat registration fees.

For more information on boating in North Carolina, including the locations of more than 200 free, publicly accessible boating access areas, visit the Commission's online locater map<http://www.ncwildlife.org/Boating/WheretoBoat.aspx>. For more information on fishing in North Carolina, including where to fish, visit the fishing page<http://www.ncwildlife.org/Fishing.aspx> on www.ncwildlife.org<http://www.ncwildlife.org>.