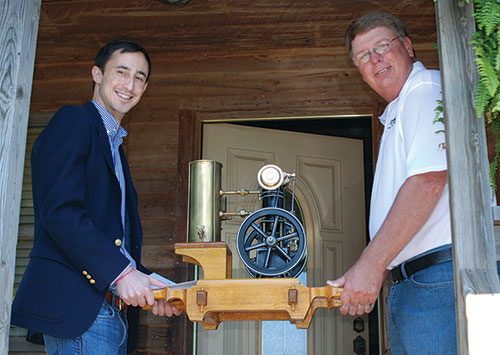 A Piece of Denton Travels to Washington DC

By Kelly Bledsoe
kellybledsoe@triad.rr.com
Last week Tim Loflin said "au revoir," (which actually means until we see (meet) again) to one of his prized possessions; his 1/3 scale model steam engine. Loflin was all to happy to send the engine on it's way knowing that Denton and the Denton FarmPark would be on display for all the world to see.

Senator Tom Tillis (R-NC) visited the Denton FarmPark this past summer during the 2015 Southeast Threshers' Reunion. Senator Tillis was intrigued with the exhibit and very interested in the history of the steam engine. He made a comment to Tim Loflin that he would like to have one of the model engines on display in his office and that statement, as they say, got the wheels tuning.

Loflin acquired the 1/3 scale model of a domestic vertical 2 horsepower engine custom built by the late Garland Jobe on October 1, 2011 at an auction. The model holds a special place in his heart because Mr. Jobe was a loyal participant of the Southeast Old Threshers' Reunion, which is held each Fourth of July at the Denton FarmPark. It is the largest steam, gas and antique farm machinery show in the southeastern and by loaning the model to Senator Tillis Loflin knows that Denton FarmPark will be presented to an entirely new audience.

Loflin acknowledge that he is very proud that the senator expressed an interest in the engine, "It really shows that people today still have an interest in the old ways." Loflin can remember as a young boy at the FarmPark the various politicians that frequently visited the Threshers' Reunion and understands what an honor it is to have a piece of Denton so prominently displayed.

Loflin also believes that the popularity of model steam engines, will keep the old ways alive with the new generation. Loflin explains that approximatley1/5 of the steam engines on display at Thresher's are models, engaging the younger generation and keeping the steam engine traditions alive.

Loflin is excited to travel to Washington to "meet again" the model that he has loaned Senator Tillis. In return Senator Tillis commented, "I am incredibly excited to display Mr. Loflin's model engine in my Washington, DC office. While I just moved into my permanent space a few months ago, it's my goal to display items that represent North Carolina's rich history and beautiful landscapes for all visitors. I look forward to this model engine being one of the many great displays representing North Carolina."
---
SD Marching Wildcats ~ We've Got Spirit, and Very Old Uniforms!
By Kelly Bledsoe
kellybledsoe@triad.rr.com
High school marching bands are a staple of school spirit, kicking off every new year with a collaboration of music and marvel. Pep rallies, half-time shows and parades allow the lineup of musicians to get spectators and fans on their feet, even when the home team is losing.

The Marching Wildcats exemplify the true meaning of teamwork with rigorous preparation, long practices, hard work and no shortage of enthusiasm.

However, the South Davidson Marching Band, although full of vigor, performs in very tired uniforms. In fact, South has utilized the same uniforms since the school was established in 1990. These uniforms are now 25 years old and worn beyond repair. The uniforms are worn at football games, community parades and band competitions held across the state.

Therefore, the band is hosting a fundraising golf tournament, with ALL proceeds going into the uniform fund. The goal is to provide the Marching Wildcats with uniforms that match their high caliber of talent.

The band needs your help! Join them October 10, 2015 at 12:30pm at the Lexington Municipal Golf Course for the Marching Wildcat Golf Tournament. Tournament format is Captain's Choice, 4-player team. Lunch will be provided at 12:30 with a Shotgun start at 1:30pm. Four-player registration is $200. Not a golfer? Sponsor a hole and get advertisement for your business and show support for the South Davidson Marching Wildcats!

Sponsorship opportunities include: Gold Sponsor-$500, one hole sponsorship with company name, pre-event publicity, day of event recognition and logo inclusion on program literature. Silver Sponsor-$250, one hole sponsorship with company name, company signage at lunch and refreshment stations. Wildcat Sponsor-$100, Company signage on one tree. All sponsorship money is due by September 4, 2015. For more information contact Kathy Coggins at (336) 250-0967 or Datra Delk-Patrick at (336) 906-7032.

A quick look at the upcoming schedule shows the dedication of the band members and their families. The Wildcats perform at all home football games and are frequently asked to perform for special events in town such as the 9.11 Day of Remembrance, and the annual Christmas Parade. Other events this year include:

Sept. 26 - Ledford Band Festival
Oct. 3 - North Iredell Band Festival
Oct. 6 - Davidson County Band Night @ Central Davidson High School. (All Davidson County high schools march their shows in exhibition. Thomasville High School also participates)
Oct. 10 - Golf Tournament
Oct. 17 - East Rowan Band Festival
Oct. 24 - Appalachian State University Festival of Bands
Nov. 7 - North Davidson Band Festival
Nov. 11 - Veterans Day Parade in Lexington
Nov. 17 - All-County Band concert @ Finch Auditorium in Thomasville

Color guards, trumpets, drums, clarinets, trombones, flutes, tubas along with a highly committed band director…it truly takes a village to complete a marching band. The diversity and creativity of the musicians, the colorful flags and uniforms, and the wide assortment of props contribute to create a unique culture that truly marches to its own drummer.