Denton School of Martial Arts
In-House Tournament
13 Years and Still Kicking!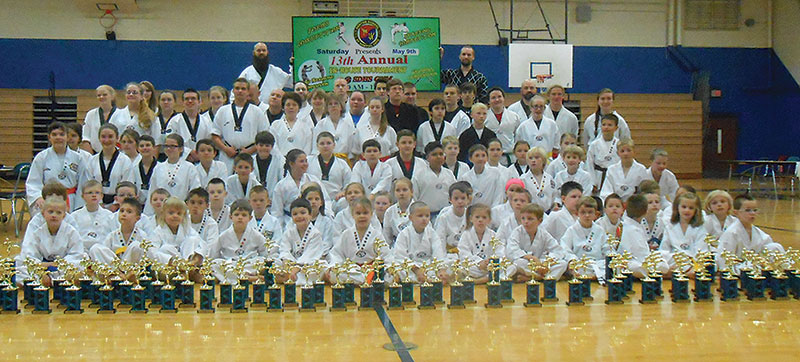 By: Kelly Bledsoe
kellybledsoe@triad.rr.com
Recently 95 students in uniform competed at the 13th Annual Denton School of Martial Arts In-House Tournament. Congratulations to the seven Grand Champions from Denton School of Martial Arts: Grace Isenhart, Chase Hunter, Daysha Freeman, Jeremy Shillinglaw, Joey Mitchell, Michael Coltrane, and Brayden James, and special thanks to all the black belts who helped judge and referee the event. The tournament would not have been possible without your help. Congratulations to the newest Denton School of Martial Arts Black Belts: Bryson Bray, Josiah Scarlett, Erik Vincent, Matthew Gallimore, and Davis Coggins.

The tournament was held at the South Davidson campus where enthusiastic spectators including proud moms and dads, filled the stands to watch the growth of the martial arts students.

Master Dwain Freeman kept the tournament exciting with a variety of events including, board breaking, fighting, weapons and the customary forms and sparring events.
All competitors received a 14" trophy and medals were presented to the competition winners.

Denton School of Martial Arts was established on August 25, 2001 under the leadership of Master Dwain Freeman. It is a local family-owned and operated business right here in Denton, offering quality instruction and training in Tae Kwon Do and Hapkido. With over 20 years experience in teaching Martial Arts the instructors truly have a passion for helping children and adults maximize their fullest potential in life as well as the Martial Arts. The school offers a wide range of programs and services to fit the needs of every member of the family, and each year DSMA hosts an in-house tournament where students demonstrate the skills they have learned.

If you are looking for physical fitness, mental conditioning or specifically looking to learn the art of Tae Kwon Do or Hapkido then Denton School of Martial Arts can help you succeed in obtaining your goals. Martial Arts is ideal for students of all ages. It is not a dangerous activity and is taught to anyone from young children to adults of all ages. It is not necessary to have any previous experience, nor is it ever too late to start.

Denton School of Martial Arts is offering summer camps for students interested in learning about martial arts. For more information visit www.dentonschoolofmartialarts.com. Denton School of Martial Arts continues to accept new students where they learn respect, confidence, concentration, while improving strength and fitness.

---
Memorial Day in the Park
The Town of Denton will host Memorial Day in the Park, Monday, May 25 from 4-6pm. The event will take place in Harrison Park located in downtown Denton. The Lanning Sisters and Core Four will be playing all your favorite patriotic songs. Core Four members include Terri Lanning-Cook, Matt Younts, Donna Gilles, and Cherri Lanning-Tipton. Musical entertainment begins at 4pm with Memorial Day program starting at 5pm. Free Hot Dogs and Drinks (while they last).

Come join your neighbors in remembering all those that have served!
---
Early Deadline for Orator
Due to the Memorial Day holiday, we will have early deadline for the May 27 edition of the newspaper. All news copy, classified, legal and display advertising must be received by NOON on Thursday, May 21, for the May 27 edition. Our office will be closed on Friday, May 22 and Monday, May 25. As always, we will be checking email regularly and you can send information to dentonorator@triad.rr.com or use the drop slot in the front door.
Have a safe and Happy Memorial Day!