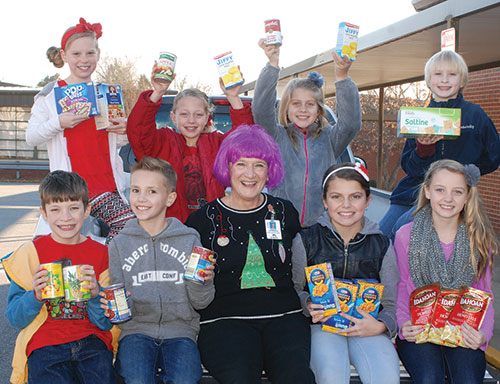 Paula (Purple Hair) Peterson Says Goodbye
By Kelly Bledsoe
kellybledsoe@triad.rr.com
It's a bittersweet week as a very special teacher says goodbye to her students.

Media Coordinator and former fifth-grade teacher, Paula Peterson, is retiring after spending more than 22 years at Denton Elementary School.

Through tears Paula Peterson recalls special memories of the many students she has taught and the bond that has formed with her fellow teachers over the years. "Denton Elementary is my family," she says, "I am going to miss them."

It's hard to tell by Paula Peterson's energy, she's as energetic as a new teacher, but she's been a constant at Denton Elementary School since 1992.

Through the years she has seen many changes and advancements. "When I started here, I helped pull the wiring down to the intermediate building for computer access, now everything is wireless. I have been a part of so many technological advances and we have grown considerably," said retiring teacher Paula Peterson.

During the span of her career, she's seen classrooms go from chalkboard to whiteboard or projector, and from one computer for a teacher's usage to teachers having their own laptops, and students using their own technological gadgets.

"But change is good," she notes, "and I am looking forward to the new direction my retirement will take me." Peterson made up her mind it was time to do things that she has always wanted to do. Although she will greatly miss the students and staff at DES she is in good health and plans to travel and can even see some mission work in her future. She loves physical things and pictures herself with hammer in hand helping Habitat for Humanity.

As fate would have it, her husband Vern Peterson, long-standing pastor at First Baptist Church in Denton, will also be retiring. "We will go out together, she notes. "It's funny how things work out…God always has a plan."

Peterson's zeal for lifelong learning is not only exemplified by her commitment to the staff and students at Denton Elementary, but also in her commitment to making her students aware of and involved in their community. Since the beginning of her career Peterson has served as the sponsor for the Denton Elementary Student Council. She served several terms on the school PTO, she is the school webmaster, coached the South Davidson High School women's tennis team, hosted the Davidson County Battle of the Books for the past 9 years, and every April, to the delight of all the students, Mrs. Peterson has organized Story Spinners.

She has played many roles in the lives of many students and former students often come back to thank her. Former parents thank her as well, for she is a truly dedicated educator who always placed her students and their best interest first and foremost. Peterson is one of those uniquely wonderful individuals who will do anything, including donning purple hair, to motivate and inspire her students.

Why does she go the extra mile? Because it matters! According to Paula Peterson, every student has the potential to shine and she enjoys giving these students an opportunity to be successful. She is a strong believer in the importance of community. This belief is the reason why she devotes so much time and energy into teaching her students how to give back and make a difference. Through the various activities such as food drives, concessions sales, to running a political campaigns for student council, Paula Peterson promotes cooperation, coordination and contribution.

Co-workers agree that Peterson came to work everyday with a smile on her face and the skill to make her students excited about learning. She created an atmosphere where life lessons could be learned. Peterson's philosophy is to keep an open mind, stay calm, and not fret the small things.

Peterson is looking forward to the next stage of her life and says she'll miss Denton Elementary - but in the words of Shakespeare - a light heart lives long.
"It's been a wonderful, wonderful place to teach and I am so privileged to have been here."

Her current students summed it the best by saying, "Mrs. Peterson, you're the best. We thank you and we'll miss you."

---
Orator Closed for Holidays Deadline Remains the Same
Due to the Christmas and New Years holiday, we will be closed Wednesday, Dec. 24 through Friday, December 26 and December 31 through January 2. Our deadline will remain the same for both issues. All news copy, classified, legal and display advertising must be received by NOON on Friday. The December 24 and December 31 editions of The Denton Orator will be published and delivered as normal. We will be checking emails and you may drop any news items off through the drop slot located in the front door of The Orator office. We thank you for your cooperation and wish you and yours a very Merry Christmas and a Happy New Year!