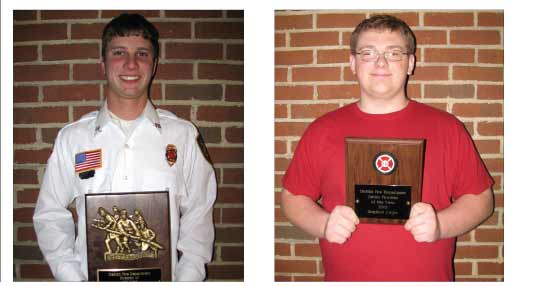 Travis Gallimore is Conference Champion
By Kelly Bledsoe
kellybledsoe@triad.rr.com
Travis Gallimore's hard work has paid off as he became the Yadkin Valley East Conference Champion last Thursday evening. Gallimore began running six years ago, and he says it "runs" in his family. Gallimore's dad was also a cross-country runner who is now one of Travis' biggest fans. Travis practices nearly 2 hours everyday and has committed himself to being the best runner possible. He took the YVC East Conference Championship with a time of 16:47.99.
Most days Travis says running is a good stress reliever, and he really loves being out there competing…but nerves certainly play a factor when competing against the best runners in the conference. Travis says that before each race he practices the same ritual. He prays with the team before the start and asks God to help them and keep them safe. He warms up the same way…he stretches the same way…and he runs the same way…FAST! In fact he is so fast that he has finished in 1st place at every regular season meet.
Travis tries not to think about the race so much as the time he wants. He sets a goal in his mind and then pushes himself to reach it. Prior to the conference meet Travis' best time was 16:58. Shaving .11 seconds off his personal best time at the conference meet is testament to his strategy.
Travis is involved in his church and various clubs at school and likes to volunteer in the community. As a junior at South Davidson High School Travis hopes to leave his mark over the next two years. He would like for future runners to remember him as a person who never gave up and someone willing to do anything to accomplish his goals.
Travis has set many goals for himself this year, and he has accomplished two of those goals recently. The first to finish as conference champion, the second to place in the all county meet which he did this past weekend coming in 5th with a time of 18:58. Travis hopes to place in the regional competition and then advance to the state championship.
Travis is well on his way to accomplishing all of his goals. His family is always behind him pushing him in order to bring out the best in him. "I know they believe in me which makes me believe in myself," Gallimore said. Advice he would give to future runners, "Train hard, stay healthy, never give up…no matter what, and always be a good sport."
---
One-Stop Early Voting at Denton Library
One-Stop Early Voting Locations for November 4, 2014 General Election
One-Stop Early Voting will be offered at the following locations and times: BOARD OF ELECTIONS located at 945 N Main Street, Lexington, NC 27292 Monday through Friday, October 23 – October 31, 2014 from 8 a.m. – 6 p.m. and Saturdays, October 25 and November 1, 2014, from 8 a.m. – 1 p.m.
Additional locations offering One-Stop Early voting include: THE DENTON LIBRARY located at 310 West Salisbury Street, Denton, NC 27239, THOMASVILLE LIBRARY (14 Randolph Street, Thomasville, NC 27360), and MIDWAY FIRE DEPARTMENT (228 Midway School Road, Lexington, NC 27295) Monday through Friday, October 23 – October 31, 2014 from 9:00 a.m. – 5:30 p.m. and Saturdays, October 25 and November 1, 2014 from 9:00 a.m. – 1 p.m.