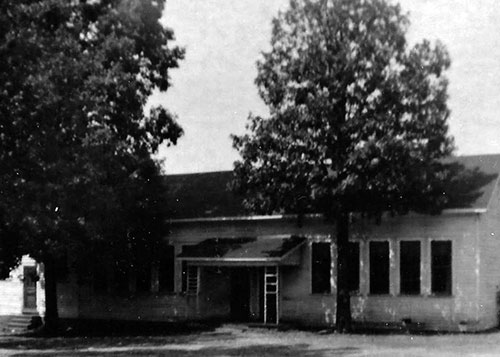 I was just thinking…about more DHS memories!
By Wayne Miller
Special to The Orator
You all are probably wondering by now, "Another Denton High School memory trip? How could there be that many memories of one little old country school?" My answer to that is, "How could there NOT be?" With my 21/3 years as a student there and over 36 years as a teacher, it is a wonder I haven't even scratched the surface of possibilities.

The year 2014 brought many new ideas, weather patterns, new family members, new ways of doing things, AND, I'm afraid one of the NEW ideas dealt with going through boxes of OLD memorabilia, newspapers, photos, bills paid-lots of interesting stuff. Wife Pearl got the ball rolling by asking me to bring out box after box so that she could sift through and dispose of anything not useful to our survival. Monumental task, to be sure, and she tackled it with enthusiasm. (I also brought out boxes for me to purge as well.) By the end of the week, Pearl had emptied umpteen pasteboard boxes, organized and relegated like-items to more durable plastic containers and was waiting for more work. Wayne, on the other hand, had his easy chair in the living room completely surrounded by "stuff," and the more he shuffled through the stacks, the higher and messier they became. "ENOUGH OG THIS!" I (Wayne) muttered more to myself than anyone else. I must apply some logic and organize. First of all, get plastic storage bins and place them at strategic locations around the chair. That done, pick up a stack of "stuff" and vow not to set it back on the floor, but sort and categorize it neatly into the boxes: newspaper clippings and photos from my earlier life in High Point-into the HIGH POINT box; Denton High School memorabilia-into the DHS box, Morris family genealogy items-into the Morris box; likewise, Lanier info into LANIER box; Miller items-MILLER box; Loftin items-LOFTIN box; and on and on-COOK box;—PEACOCK box;—LUTHER box;—LUCAS;—STRIDER,—SURRATT;—HARRISON;—HURLEY—WHOA! I don't have nearly enough boxes!

Anyway, Pearl has handed me a photo of the old Denton High School cafeteria, and my mind is running with that image and definitely NOT with my paper-packed throne of unfinished sorting. The mere thought of that old building sets my taste buds into overdrive. Homemade spaghetti, macaroni and cheese, stewed potatoes, white beans, green beans, pinto beans, creamed corn, homemade soup with cheese toast, yeast rolls, cherry cobbler, chocolate cake, and many other delectable dishes. And you know what?...nothing was said about "portion size," "calories," "fat content," "carbohydrates" and the like. No one worried about putting on extra weight because any "extra" we had was soon exercised off at recess or gym class, or just walking to and from school (oh, and I failed to mention the great sprints we had from the classroom buildings across the road to the old lunchroom). By the time we caught our breath, we had our plates and were ready to eat!

You would think with all this lunchroom talk that eating was all that was on our minds. Not so (even though it was very important); classroom activity was also high on our adolescent lists.

One of my dear classmates relates one of her funniest class experiences; it's one of those "you-had-to-be-there" events that gets more and more hilarious the more you visualize it. Miss Hazel Hoover, our typing/bookkeeping/shorthand teacher, was as proper a lady as ever was, pretty, prim, precise, personable, practical. Back in the 1950's small country schools did not get large budgets to hire teachers, and Miss Hoover's classes were the "pay-as-you-go" variety with her collecting a small fee from each student on a monthly basis for each class they were taking from her. If she lost students for any reason, she lost that part of her salary so she of necessity had to watch her pennies.

But what woman can turn down a real luxury item when it appears before her in all its tempting guile and style? Miss Hoover's grand purchase (of which she was very deserving, I might add) was a fur pocketbook. Yes, you read that correctly…a fur pocketbook!

So off to school she goes with her new pocketbook and proudly displays it on her teacher desk. Enter her students, and the girls are thrilled at the sight of that new possession. Enter also Weldon Simpson, our popular, elder classmate. Weldon became our classmate when Silver Valley Elementary School was destroyed by fire in the summer of 1954. His mother was the principal of Silver Valley School, and when she learned that the county planned to make some repairs to the already-condemned Denton School building (the closest thing to a skyscraper in town) to provide her displaced students a temporary facility, she enlisted her son and his friend Add Dorsett (also our valued classmate) to drive school buses to the new location. Now Weldon, whom I have already addressed as "elder classmate" had served a stint in the armed forces so he was, indeed, several years older than the rest of us…not only older, but also more worldly wise and experienced, and not only that, but he had a certain audacity, an independent spirit, a mischievous nature just begging for expression. Imagine the surprise and shock perhaps when Weldon spied that fur pocketbook on Miss Hoover's desk and what followed. He grabbed the nearest broom, and before anyone could react at all, he was thrashing, bopping, smacking, whacking that purse, and all the while shouting, "Kill it! Kill it! Kill it! The class broke into all kinds of sidesplitting laughter, and even Miss Hoover could not suppress her amusement and joined the class laugh-a-thon. Don't know whether the pocketbook survived the attack or not, but those in the commercial classes that semester had something to talk about for years to come.

One more episode before I close…Denton High School's being a small school with limited resources necessitated teachers' instructing a variety of classes oftentimes outside their major teaching area. Such might have been the case when a physics class (smart bunch) entered their classroom one day. Their teacher arrived and promptly launched into a great lecture…in HISTORY! The class sat respectfully (but devilishly quiet) and attentive until near the end of the class period when the teacher asked one of the students to read aloud from the "history" book. Only then did he realize that he was teaching the wrong class…uh right class…wrong subject.

…And so went another day at good old DHS.

Until next time, hold onto those precious memories, God bless, and…I'll be thinking!

Pictured: This building was moved from its original location on Piedmont School Road to the Denton School campus and served elementary school students with its two classrooms. (Othell Surratt, who lives nearby, was one of those students.) By the early 1950's it had become the school cafeteria mentioned in today's "Just thinking…" article.

---
SDHS Hall of Fame Inductees to be Recognized Friday Night
Scott Garner, Amy Pierce, Jessica Burcham, Eddie White, and the late Neal Morris will be recognized at the October 17 home football game with the induction ceremony following on Saturday, October 18, in the South Davidson High School commons area.

The induction ceremony is open to the public and will be put on by the High School Boosters Club. Rick's Restaurant will be catering the event and the community is invited. For tickets call SDHS Booster Club president, Jamie Benton at (336) 465-2962 or SDHS at (336) 242-5700. Tickets are $12.00.
---
Denton Farmers Market Pumpkin Painting Contest is this Saturday!
The Denton Framer's Market is hosting a pumpkin painting contest on October 18 from 9am to 1 pm. Mums, pumpkins and pansies will also be sold. Vendors are welcome set up. Cost is $5.00. For more information call Barbara Hogan at 859 4269.