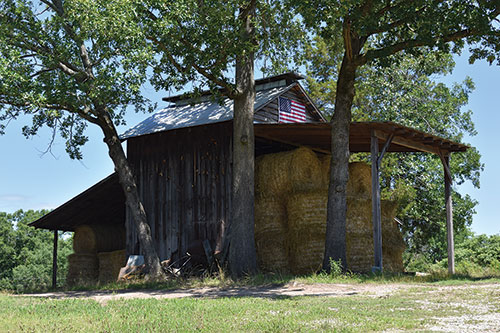 old barn, new life
By Kelly Bledsoe
kellybledsoe@triad.rr.com
Almost anywhere you travel in southern Davidson County you'll see a barn. These farmstead structures stand as silent reminders of our local history and contribute their rustic beauty to the rural landscape.

Just south of town on highway 109 the Old Stockyard Barn is breathing new life while adding charm to our community, thanks to the industrious efforts of Bill Kinsey and Dana Wall. This husband/wife duo recently purchased the barn with the idea of creating an indoor-outdoor antiques market, wedding venue, and auction site.

The couple has spent countless hours cleaning and restoring the structure. In the process they have learned quite a bit about the old barn from curious locals who have stopped in to inquire about the restoration and share stories from personal past experiences. These lessons in history have influenced some redesign aspects of the barn while solidifying the couple's sentimental attachment to the barn.

The restoration project is truly a labor of love for Dana and Bill as well as an exercise in patience. Dana first noticed the barn two years ago while driving to work. She and Bill reside in the Badin Lake area, and Dana is the volleyball coach for Salem College. On her daily commute she noticed an auction sign on the property that prompted her wheels turning. She and Bill attended the auction but unfortunately they failed to win the barn. For more than two years she rode by the property thinking about what could be. She attempted to purchase the property several times when finally a For Sale sign was posted and she was able to begin making her dream become a reality.

The barn required quite a bit of work. Cleaning out years of trash, reinforcing walls, rebuilding the roof, resurfacing the floor, painting, mowing, planning, scheming and dreaming. Little by little progress was made and the transformation is remarkable.

Although there is still much work to be done, Dana and Bill are inviting the community to come out Labor Day Monday to enjoy the fruits of their labor. They are opening the Old Stockyard Barn to anyone who would like to set up and sell antiques, collectibles, home-grown, hand-made, and vintage items. Set up is FREE…just bring your stuff and show up at daybreak. Don't miss this opportunity to explore the Old Stockyard Barn and perhaps go home with some treasure of your own.

In addition to the indoor/outdoor market sales Dana and Bill plan to open the barn for auctions in 2015. The Barn will also be available for weddings and parties. The Barn can accommodate between 60-100 people and is the perfect venue for your dream wedding.

You can visit their website www.stockyardbarn.com for more details, rates, dates and times.
The old Denton Stockyard Barn is located at 23122 South Highway 109 Denton, NC 27239
Just off of Highway 49! You can reach Bill or Dana at 336-461-3008.
(See more pics on Ect.)
---
NCDOT to Begin Diagnostic Work on High Rock Lake Next Month

Crews Evaluating Options for Repairs on St. Matthews Church Road in Salisbury
The N.C. Department of Transportation is working with Alcoa Power Generating Inc., to determine the best option for repairing the St. Matthews Church Road causeway over High Rock Lake in Salisbury.

In order to begin preliminary diagnostics to determine what repairs are needed, NCDOT has requested that Alcoa crews lower the water level of High Rock Lake this fall while geotechnical engineers visually survey the slopes that are usually under water.

Alcoa workers will be gradually lowering High Rock Lake over a period of approximately 45 days beginning Sept. 15, after the bulk of summer traffic along the lake dies down.

Once this diagnostic work has been completed, NCDOT will be able to evaluate possible repair options and estimated costs. A repair schedule will then be determined.

St. Matthews Church Road in Salisbury was closed in September 2013 after engineers determined that waves from High Rock Lake had eroded the road's foundation, creating potentially unsafe driving conditions along the 85-year old causeway.
"Over the years, the constant wave action of the lake has eroded the soil under the causeway, compromising the subgrade and ultimately causing the pavement to fail," said NCDOT Division Engineer Pat Ivey. "While we regret any inconvenience the closure may cause for local traffic around the lake, safety is the department's highest priority."

Motorists should use Stokes Ferry Road and Bringle Ferry Road to navigate around the closure. A map of the area can be seen here.

For real-time travel information at any time, call 511, visit http://www.ncdot.gov/travel or follow NCDOT on Twitter. Another option is NCDOT Mobile, a phone-friendly version of the NCDOT website. To access it, type m.ncdot.gov into the browser of your smartphone. Then, bookmark it to save for future reference.