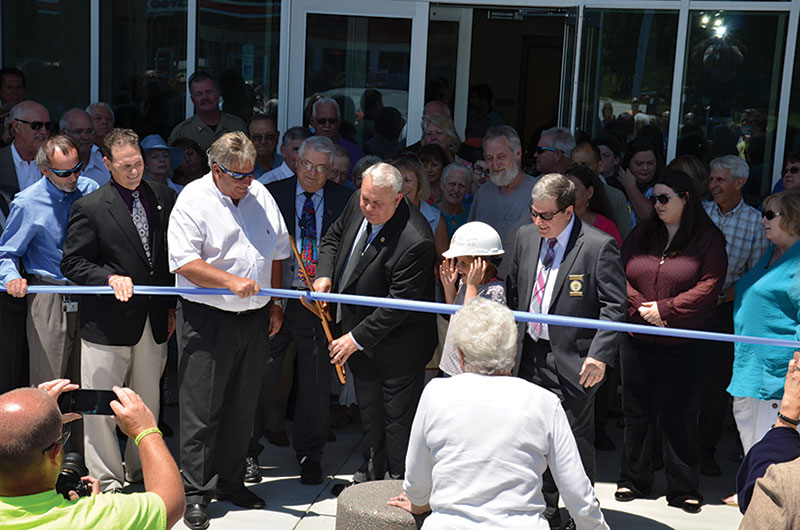 New Davidson County Sheriff's Office Dedication
Over 150 people were in attendance this past Sunday as Davidson County Sheriff David Grice cut the ribbon to celebrate the new state of the art facility located at 2511 New Highway 64 at the intersection of County Home Road. The dedication ceremony was followed by self-guided tours.

Sheriff Grice said that this new facility is the first building specifically built to house the Davidson County Sheriff's office, which has been located at 110 W. Center Street since 1958.
Grice stated that this was a historical moment and sincerely thanks the citizens of Davidson County for constructing the new facility.

The new facility will house 10 sheriff's office division and includes a 1,200-square-foot training room, dining hall, lounge space, a physical fitness area, property and evidence storage space, a patrol squad meeting room, a break room, and a kennel for deputies to house their 9-9 officers, in addition to offering more parking.

Construction for the much-needed facility began in 2014 by Barnhill Constructing Company and the DCSO will move into the new building in mid to late July. The Davidson County Jail will remain at the 110 W. Center Street location.

Sheriff Grice looks forward to moving into the new facility, which will provide a professional work environment for his deputies.
---
Celebrating 45 Years of the Greatest Steam, Gas Engine & Antique Farm Show in the Southeast
By Caron Myers
For the 45th year, the Southeast Old Threshers' Reunion returns to the 170-acre park in southern Davidson County owned by Brown Loflin and the Loflin family. This year, the reunion features all things CATERPILLAR, with the CATERPILLAR CRAWL! Caterpillar collectors from around the country will bring their wares – collectable items made by CATERPILLAR - to buy sell or trade.

To kick off this year's event, we will have a TRACTOR RIDE on Monday, June 29th at 9a.m. which will go through Denton and near High Rock Lake, before circling back to the FarmPark. At noon, the tractor riders will eat lunch at THE CLASSIC RESTAURANT and be part of a presentation by the Town of Denton to Brown Loflin for providing 45 years of entertainment through the events held at the Denton FarmPark. Proceeds from the TRACTOR RIDE will benefit the FIREFIGHTER'S BURNED CHILDREN'S FUND, orchestrated by Callan Loflin, a Duke University student and Denton native. An auction featuring NASCAR memorabilia and farm collectibles will be held on Tuesday, June 30th at 6 p.m. at the FarmPark.

This year, we will celebrate what started the Thresher's Reunion, which was the fly-in, with an antique plane on display. This year, there will also have a MAYBERRY TRIBUTE DAY, with the whole "cast of characters" in attendance. Of course, the Myers' Garage, which pays tribute to Bobby Myers, a popular pioneer in the sport of stock car racing who lost his life at a young age in 1957 while driving for Lee Petty, Richard Petty's father, in the Southern 500 in Darlington, SC. His son, the legendary Danny "Chocolate" Myers of Richard Childress Racing fame, has one of his father's original cars that he raced at many of the tracks around the Southeast. Brown Loflin, who used to race himself with Bobby Myers, built the garage as a replica of what Bobby Myers' garage looked like in the 1950s and Chocolate Myers has worked to restore it like his father had it.

As always, the Threshers' Reunion will display several rows of antique farm equipment amid the 15 restored buildings that Loflin salvaged from neighboring communities. The Handy Dandy Railroad will provide ride for children and adults alike around the park. Vendors will be on hand to offer crafts – everything from handmade jewelry to knives. There are also plenty of food vendors on hand with popular delicacies like funnel cakes, pinto beans, chicken pies and the most popular Poppin' John Homemade Ice Cream – ice cream churned by a hit-and-miss engine.

Donald Thomas' Famous Border Collies will perform the sheep herding farm demonstrations at 10 a.m. and 1 p.m. each day. United Country Auction House will take in antiques for selling from 10 a.m. to 5 p.m. June 29th to July 2nd. Then, at 9 a.m. on July 3rd, an antique consignment auction will take place on the grounds. See www.rogersauction.com for more details. While attending the Southeast Old Threshers' Reunion, get the 2015 Threshers' Reunion Post Office Cancellation at the General Store.

On the music front, each day provide news sights and sounds. Tuesday, June 30th, it's THE CHURCHMEN at 2 p.m., followed by the Talent Contest at 6:30 and then the Threshers' Queen Pageant at 7:30 p.m. On Wednesday, July 1st, it's TRAVIS FRYE & BLUE MOUNTAIN at 2 and 7 p.m., followed by THE ROYS 3 and 8 p.m. On Thursday, July 2nd, it's THE EDWARDS FAMILY at 1 & 6, THE LEBEAUS at 2 and 7 and THE WEB FAMILY at 3 and 8. On Friday, July 3rd, it's DONNA HUGHES at 2 and 7 p.m. and THE ATTRACTIONS BAND at 3 and 8 p.m.

Then, on Saturday, July 4th come spend the day with THE MAYBERRY TRIBUTE DAY with all your favorite characters. Pedal Pull contests for children will take place at 10 a.m. and at 11 a.m. for adults on Saturday, as well. At 2 and 7 p.m. the BURROWS BROTHERS BLUEGRASS BAND will perform and then, at 9 p.m., it's time for the FIREWORKS!

Tickets are $15 for adults, $6 for children younger than 12 and pre-school-aged children are free and no additional charges for the musical performances. Parking at the Denton FarmPark is free. Camping is available. Call the Denton FarmPark office for site availability at 1-800-458-2755.

During the Southeast Old Threshers' Reunion the Denton FarmPark hours are 11 a.m. to 11 p.m. from June 30th-July 4th. For more information call 336-859-2755 or go online to www.dentonfarmpark.com Denton FarmPark 1072 Cranford Road, Denton, NC 27239 Phone: (336) 859-2755 Fax: (336) 859-2567 E-Mail: events@dentonfarmpark.com.
Also a last minute addition to this years line up of events at the farmpark... Carolina Helicopters, LLC is offering flying tours for $20 per person. They will be offering flying tours until Satursday, July 4 from morning until night. Book them for your next town or community event, family reunion, birthday party or real estate viewing by calling 1-843-598-7722. Carter Lineback and grandmother, Jamie Troutman Truell were among the many to enjoy a nice ride this morning over the farmpark.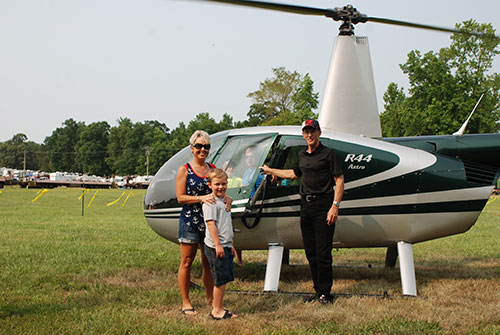 ---
Denton Antiques Festival Going on Now through July 4
By: Tennille Sullins-Morris
tennillesullins@triad.rr.com
Antique vendors will be rolling into downtown Denton Tuesday, June 30 for the fourth annual downtown Denton Antiques Festival. This year's festival will take place in the same locations as the previous years. Harrison Park, the Denton Community Farmer's Market along with Johnson Park will serve as the melting pot for antique enthusiasts and collectors.

This year's co-organizer, Joe Loflin has been selling at the festival since the beginning. He is an avid collector and seller of all things antiques and is looking forward to another good turnout this year and is excited what the event brings to the downtown area. He along with co-organizer, Randy Cook estimate 60+ vendors this year, up 30 vendors from the previous year. The two men are excited to continue in what the original Antiques Festival founders, Roby Loflin and Richard Smith started in 2012.

Mr. Loflin expects a nice diversity of antiques and collectibles, stating there will be "A lot of good stuff" at the festival. Some mentionable items include old bottles, signs, pottery, license plates, glassware, furniture, yard items, toys, knives and so forth.

The Antiques Festival will be held the same week Tuesday, June 30 through Saturday, July 4 as the 45th Southeastern Old Threshers Reunion held at the Denton Farm Park (refer to article in this weeks paper). The annual Threshers reunion brings roughly 50,000 people through the town of Denton each year making the Antiques Festival a prime week to showcase all things antique in the beautiful downtown Denton area. Interim Town Manager, John Gray feels that "The Antiques Festival is a perfect compliment to the Southeast Old Threshers' Reunion and gives one more good reason for folks to come spend some time in Denton and Southern Davidson County."

If you are interested in becoming a vendor or for more information, you may contact the Town of Denton at 336-859-4231, Joe Loflin at 336-669-9297 or Randy Cook at 336-561-1009. Space is very limited and the cost per booth is $10. The event will run Tuesday, June 30 through Saturday, July 4 from 8:00 a.m. until. Harrison Park is located at the intersection of N. Main and Salisbury Streets in downtown Denton with the Denton Community Farmer's Market directly across the street. Johnson Park is located on Salisbury Street directly across from Briggs Funeral Home.