Denton Ladies Civitan to host 7th annual "I AM WOMAN" event July 30

The Denton Ladies Civitan Club will hold their 7th annual "I AM WOMAN" event on Thursday, July 30, 2015 at the Central United Methodist Church Fellowship Hall, located on the corner of Bingham and First Streets in Denton. The event begins at 9:30am and will run until 2:00pm with a variety of events including raffles throughout the day, door prizes, lunch and a guest speaker.

The theme of this year's event is "Pick Your Own" so tables will be uniquely decorated ranging from beach themes to Christmas settings. A "Queen for the day" will be selected (by ticket drawing). There will be special music by Matthew Weaver and a delicious lunch.

This year's guest speaker will be Nancy Brewer. Ms. Brewer is a North Carolina writer from Concord. She writes historical novels with the settings in the south. She has a cabin in Gold Hill where she does her writing. In 2011 she received the Jefferson Davis Historical Gold Award. She has written "Caroline Rain" and "Beyond Sandy Ridge." In addition, she has illustrated and published children's and poetry books. She has worked with well known music artists writing songs and lyrics. You can find her books on Kindle and Nook.

TICKETS ARE PRE-SALE ONLY at a cost of $25.00. Please see any Civitan member or call Angie Floyd 859-9885; Gail Staley 596-2263; Joan Briggs 859-3744 or Carla Carrick at 859-3346; Kelly Young at 336-250-9171 or email dentonladies@outlook.com.

Proceeds from the 'I AM WOMAN" day will go to Boys and Girls Home at Lake Waccamaw and local projects. "I AM WOMAN" is a fun, informative and relaxing day. Organizers look forward to your attendance and thank you for your past support of this project!
---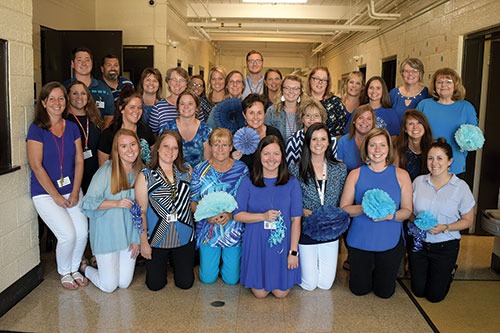 A very good place to sit...
Everyone needs a good place to sit and reflect as Wayne Miller points out in his article below. One of my favorite "resting spots" is on the Flat Swamp Creek side of High Rock Lake as the sun sets over the trestle. Life is good... Photo by Kelly Bledsoe
---
I was just thinking……..about GOOD PLACES TO SIT!
By Wayne Miller

Special to the Orator
You know, folks, with the weather opened up and everyone getting out of doors, it seems that most people are looking for places to go, gardens to start, walks to take…ACTIVITY, ACTIVITY, ACTIVITY! While my thoughts are much along the same lines with projects indoors and outdoors, Wayne soon tires physically and mentally just from the strain of anticipation, and I seek a good place to sit and reflect. To tell the truth, it is a good practice to get away from it all once in a while and commune with nature or whatever spiritual forces draw you. Everyone should have those "special places," places of renewal, of deep and lofty thought, and, yes, especially for prayer. Some such places jump at you unexpectedly, for example, the sturdy white sidewalk benches in front of Park Place Centre right in the heart of Denton. Sitting here in the bustle of near-noon day traffic, one might question how relaxing that could be—but it is!


Already one young lady has wished me a good day and hurried off to her car. A shiny black Sierra truck with empty Kaufman trailer sits across North Main Street. Its owner is obviously filling himself with a delicious Village Restaurant meal before going on to load whatever into his trailer. (Big NOTE here! Just to let you know that first impressions cannot always be trusted, the last statement was completely off. I found that the person driving the truck was a woman, not a man, and she was not at the Village eating, AND she had already unloaded the trailer and parked there. Well, at least I got two things correct: the shiny black truck was a Sierra, and the trailer was a spiffy Kaufman!)


Traffic continued to ease by with many of the vehicles turning into the Village parking lot, their occupants glancing quickly or not at all at the dude with a notepad sitting on the white bench.


Just across the street in Harrison Park there are many great places to sit: the sidewalk benches, the gazebo seats, or just plop yourself down in the cool, green grass. A word of caution on this last one: if you are over a certain age (and I am), make sure there is someone close by that can help you to your feet again, unless, of course, you're intent on staying a good while. (Knees, hips, elbows and shoulders that are willing enough to get you to the ground are not so cooperative in getting you back up.)


If you're fortunate enough to have a porch or patio, now there's a good place to sit. Take a cup of coffee or a cool drink, some munchies, and an interesting book or newspaper, and you've got it made!


Other folks might prefer a secluded corner of a dimly-lit study or library where their thoughts can take form without the intrusion of the outside world.


One of my favorite "daydream" places of my earlier childhood was up under our house where the cool, black earth was so comforting and inviting. This was also a very private location where I could store valuables (such as marbles, coins, and even unsolicited lipstick-kissed notes that I shared with no one!) "Read and Bury": that was my motto…. Gee, I do hope they have all rotted by now! My under-the-house musing spot was also a great place to be when my parents or siblings thought of some chore that needed to be done and my name seemed to be written on it.


"Wayne, the water buckets need filling!"


"Wayne, you need to bring in some firewood!"


"Wayne, you need to go pick up some groceries at the store!"


"Wayyyyyne! Where is that young'un now?"


Later on after our moving to Denton, one of my favorite quiet refuges was the barn loft on my grandfather's farm. Sitting in a sweet-smelling haystack high above the rest of the world, I could imagine my life of the future, books I would read, poems and stories that I could write, think of friends and relatives who had passed away.


Limitless are the possibilities when you allow yourself the time and opportunity to get to that "quiet place."


But you know, that "quiet place" that brings peace and contentment to one person might not suit another. To me, sitting on the banks of a flowing, gurgling creek with its sparkling, cool water splashing, swirling around rocks and fallen trees would be the ultimate in a peaceful setting. Throw in countless songbirds and butterflies flitting about, and make your Creekside seat a soft mound of green moss. Perfect!
Others, with a more practical and physical dexterity than I possess may find their place of peace and contentment on a deer stand overlooking a large field or expanse of woods. Their vigil from early morning darkness to the brilliance of daybreak with the accompanying change of shadow, sounds, and colors brings feelings of fulfillment, wonder, and peace to the hunter.
Whatever works for you, use it, and visit it often.
And let me remind you that the "place" that soothes and brings you peace can very well exist in your imagination. Let your mind travel where it will, escape the bonds of everyday sameness, take a flight of fancy over the Grand Canyon, scale the heights of the Rocky Mountains, ride the curling waves of the California Pacific, drive the lead car in the Indy 500, scuba dive in the crystal waters of the Grand Caymans, attend a formal reception at Buckingham Palace, ride a camel across the Sahara…there simply is no limit!


I hope these words give you food for thought and that you find your perfect "quiet place"!


Until next time….God bless….and I'll be thinking!